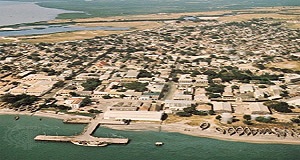 In accordance with its 2015 Annual Work Plan and within the framework of the OIC Tourism Capacity Building Programme (Tr-CaB), SESRIC organised the training course on "Tourism Marketing" at the Gambia Tourism Board, Ministry of Tourism and Culture (MTC) of The Gambia in Banjul on 25-26 March 2015.
In the opening session, H.E. Mr. Benjamin Roberts, Minister of MTC of The Gambia expressed his gratitude over the two-day OIC Tr-CaB training course to the Islamic Tourism Centre (ITC), the Ministry of Tourism and Culture of Malaysia and SESRIC. The Minister extended also the President, H. E. Sheikh Professor Alhaji Dr. Yahya AJJ Jammeh's appreciation to the trainers for the support they rendered to the country.
The course was conducted by experts Dr. Nirwan Noh, Director, ITC of Malaysia, Dr. Khairil Wahidin Awang, Universiti Putra Malaysia and Ms. Nur Alyssa C. Yussin, Manager, ITC, the Ministry of Tourism and Culture of Malaysia, and local experts from MTC of Gambia. 25 officials of the MTC of Gambia participated in the training course.
The training course on "Tourism Marketing" focused on the following topics:
Introduction and Overview of the World Tourism Industry
Introduction of Marketing Principles
Promotion and Marketing of Tourism Destination in Malaysia: Case Study
Role of NTO and Travel & Tour Operators in Supporting the Development of Tourism Products/Destinations
Formulating Strategies and Policies for Successful Promotion and Marketing
Challenges in Promotion and Marketing of Tourism Destination
For more information on the activities of the Training and Technical Cooperation Department within the OIC Tourism Capacity Building Programme (Tr-CaB), please visit: http://www.oicvet.org/oic-tourism-cap.php
Photos