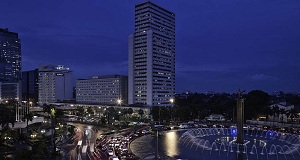 The 3rd Session of the Islamic Conference of Labour Ministers (ICLM) was held in Jakarta, Republic of Indonesia during 28-30 October 2015 under the theme "Mainstreaming Youth Employment and Occupational Safety and Health (OSH) in OIC Member States". The Senior Officials Meeting, which preceded the Ministerial Conference, was held on 28-29 October with the participation of Senior Officials from the Ministries of labour of 35 member countries. The Meeting was also attended by representatives of the OIC General Secretariat and the relevant OIC and international institutions. SESRIC was represented by Amb. Musa Kulaklıkaya, Director General of SESRIC, and Dr. Kenan Bağcı, Senior Researcher.
After the opening ceremony of the Senior Officials Meeting, OIC General Secretariat and SESRIC presented the progress reports on the implementation of the Executive Programme for the OIC Framework for Cooperation on Labour, Employment and Social Protection, which was adopted during the 2nd ICLM that was held in Baku, Republic of Azerbaijan in 2013.
During the meeting, SESRIC launched the OIC Labour Market Report 2015 and presented the main highlights of the Report, which was the first comprehensive report of SESRIC in the area of labour. SESRIC also presented the Centre's activities conducted within the framework of OIC Occupational Safety and Health (OIS-OSHNET) and OIC Public Employment Services Network (OIC-PESNET). Besides, the Centre presented the draft General Guidelines on Occupational Safety and Health prepared by the OIC-OSHNET. After general discussions on the Guidelines, the Meeting adopted the document. The meeting also discussed the draft statute of the OIC Labour Centre to be established in Baku and adopted the statute.
The ministerial session was held on 29-30 October. The Conference was declared open by H.E. Mr. Muhammad Yusuf Kalla, the Indonesian Vice President, with the attendance of Ministers and Heads of Delegation from 35 OIC Member States and a host of invited guests representing OIC Observer States, regional and international organizations. During the opening ceremony of the ministerial session, H.E. Iyad Ameen Madani, the Secretary General of the OIC, implored the Ministers and Heads of Delegation at the Conference to demonstrate ownership of this OIC Framework by reflecting them in their programmes of action and allocating adequate resources for its expeditious implementation. He also urged the Conference to adopt a special dispensation to facilitate better employment opportunities for youth and vulnerable segments of the Palestinian population, including supporting programmes in the area of vocational training, skill development and entrepreneurship.
With the 3rd ICLM, Indonesia took the two-year chairmanship of the conference following the chairmanship of Azerbaijan. The Conference adopted a resolution and a Jakarta Declaration, containing the roadmap for intra-OIC cooperation in the area of labour, employment and social protection during the next two years.
The Official Documents of the Conference are available at: http://www.oic-oci.org/oicv2/subweb/labour/3/en/main.asp