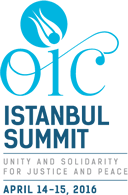 The 13th Session of the Islamic Summit Conference was held on 10-15 April 2016 in Istanbul. With the theme "Unity and Solidarity for Justice and Peace", the Summit stressed out the importance of unity and solidarity of the Organisation of Islamic Cooperation (OIC) member countries in solving the challenges faced by the Islamic world.
The Summit Conference started with the Senior Officials Meeting (SOM) on April 10-11, 2016 and was followed by the Council of Foreign Ministers Meeting (CFM) on April 12-13, 2016. The Conference concluded with the Summit Meeting (SUM) on April 14-15, 2016.
H.E. Iyad Ameen Madani, the Secretary General of the OIC, delivered a speech at the Council of Foreign Ministers Meeting, where he emphasized that the Meeting provides an opportune time to generate the political will, make decisions, change the status quo, resolve discord and differences and give confidence and hope to the peoples who look forward to the outcomes of such meetings and the prudent and far-sighted resolutions thereof.
Over a period of two days, the Meeting discussed the draft agenda and program of the 13th Islamic Summit.
The Ministers of Foreign Affairs studied the outcome documents presented to the Islamic Summit Conference. The documents revolved around the Palestinian cause, the Arab-Israeli conflict, dispute cases and migration issues in the Islamic world, the situation of the Muslim local communities in non-Member States and countering terrorism, extremism and violence.
Heads of State and official delegations from across the OIC's 56 member states attended the 13th OIC Islamic Summit Conference.
The Statistical, Economic and Social Research and Training Centre for Islamic Countries (SESRIC) also attended the Islamic Summit, represented by Ambassador Musa Kulaklıkaya, Director General of SESRIC. The Centre prepared a study on the Status of Cancer in OIC Member Countries, which was presented during the First Ladies' Leadership on Cancer Control on the margins of the Islamic Summit on 14 April.