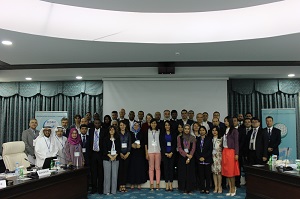 SESRIC in collaboration with the Organisation for Economic Co-operation and Development (OECD) organised the Workshop on Development Finance Statistics on 12-13 July 2017 in Ankara, Republic of Turkey.
The Workshop was attended by 46 delegates from the Ministries of Finance, Ministries of Foreign Affairs, National Development Assistance Agencies, National Statistical Offices (NSOs) and other relevant governmental institutions of 18 OIC Member Countries as well as representatives from international organisations including Islamic Development Bank (IDB) and UNDP Regional Centre for Europe and the Commonwealth of Independent States (CIS).
The objective of the Workshop was to introduce the key concepts and methodologies on development finance statistics, identify existing obstacles and challenges of integrating development finance statistics into national statistical systems (NSSs) and data reporting, and exchange experiences and share good practices among participating countries.
The Workshop hosted information sessions on the OECD-DAC, main concepts and classifications of DAC statistics including Official Development Assistance (ODA), Total Official Support for Sustainable Development (TOSSD), differences between ODA and TOSSD, and enhancing collaboration on development finance statistics reporting. The experts of OECD delivered presentations on OECD-DAC data reporting formats, collection timeline, dissemination through OECD website.
During the experience sharing session Azerbaijan, Bangladesh, Indonesia, Kazakhstan, Nigeria, Palestine, Somalia and Turkey informed others about how development cooperation flows are recorded and mechanisms for integrating development finance statistics into their National Statistical Systems.
On the second day of the Workshop, a break-out session was held which facilitated discussion on how development finance flows could be better tracked by both donor and recipient countries. Moreover, the benefits and challenges of reporting development finance flows to the DAC were discussed.
Documents
Opening Session
Welcome Speech of H.E. Ambassador Musa KULAKLIKAYA, Director General of SESRIC (English)
Presentations
Workshop on Development Finance Statistics - Day 1, OECD (English)
Workshop on Development Finance Statistics - Day 2, OECD (English)
Tracking of Development Co-operation Flows and Integrating Development Finance Statistics into National Statistical Systems of OIC Member Countries
Photos