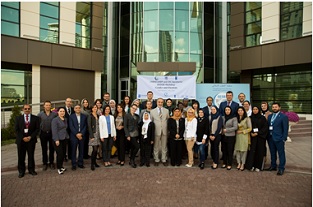 The Training Workshop on Gender and Elections was jointly organized by the OIC General Secretariat and the UN Electoral Assistance Division and hosted by SESRIC on 10-12 October 2017 in Ankara, Republic of Turkey.
The 3-day training workshop aimed to share experiences and good practices on how to promote women participations in electoral and political processes and their representation in electoral bodies.
The training introduced participants to different issues related to women's participation in electoral processes as voters, candidates and electoral officials. It discussed as well the impact of electoral systems and electoral frameworks on women's participation.
During the opening session, H.E. Ambassador Musa Kulaklıkaya, Director General of SESRIC, addressed the participants by highlighting that equal access of men and women to power, decision-making and leadership at all levels is a necessary precondition for the proper functioning of democracy. As women are in every walks of life, their contribution to the conduct of public affairs is essential to use their resources and potential to determine political and development priorities that benefit societies and the global community. In particular, he noted: "Many international treaties and statues including " The Universal Declaration of Human Rights" entrench equal rights for people everywhere to freedom, inclusion, and representation. The OIC 2025 Plan of Action and well as the Sustainable Development Goals (SDGs) also aim to achieve gender equality and to empower all women and girls to ensure full and effective participation and equal opportunities at all levels of public life."
The workshop was also addressed by Ambassador Noria Abdullah Al-Hamami, Head of OIC Election Observation Unit, and Mr. Mansour Sadeghi, Team Leader for UNEAD's Strategic Partnership, and Ms. Najia Hashemee, UNDP Regional Electoral Policy Specialist. About 30 participants from OIC member countries, OIC General Secretariat, UN, representatives of women organizations and civil society from OIC member countries and other relevant organizations participated in the workshop.
Photos