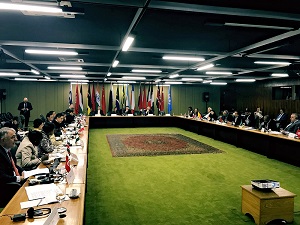 The Statistical, Economic and Social Research and Training Centre for Islamic Countries (SESRIC) participated in the Symposium on "South-South Cooperation: trends and challenges ahead of the BAPA+40 Conference", jointly organized by the Islamic Development Bank (IDB) and Brazilian Cooperation Agency (ABC) on 8-9 March 2018 in Brasilia, Brazil.
The Meeting was attended by representatives of 20 Technical Cooperation Agencies (TCAs) of Global Southern Countries, of which 10 of them were from OIC Countries.
SESRIC was represented at this meeting by Mr Onur Çağlar, Technical Cooperation Specialist at the Training and Technical Cooperation Department.
At the centre of the meeting was the reinforcement of coordination and cooperation among the Technical Cooperation Agencies on the main topics expected to be addressed at the upcoming United Nations Conference on South-South Cooperation (BAPA+40), with a view to the exchange of ideas and deepen mutual understanding.
South-South cooperation – which refers to countries located primarily in the southern hemisphere – has been acknowledged as an important element of international development efforts, by means of exchange of experience in public policy formulation, capacity building and joint research in science and technology, among others. In this context, there is a growing expectation from the international community on the contribution of South-South cooperation to the global development agenda.
Photos