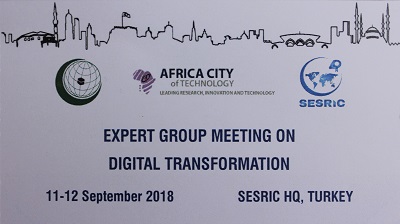 SESRIC, in technical cooperation with the Africa City of Technology Sudan, organized an Expert Group Meeting on Digital Transformation on 11-12 September 2018 at SESRIC HQ in Ankara, Turkey.
The 2-day meeting proceeded through presentations and in-depth discussions on the topic, aiming to promote the OIC cooperation in digital transformation through knowledge and experience sharing in the digital transformation area. It explored opportunities for future partnerships by looking to best practices and capacities in OIC countries with the aim to initiate activities within the scope and mandate of the OIC and to share those success stories.
The meeting explored ways and means to establish a Pan-OIC platform to report on the status of ICT development in OIC countries. It also explored future avenues on Digital Transformation (DT) towards establishing an open source and a content repository for success stories, researching about best institutional reform modalities to achieve DT and the capacity building of a critical mass of experts on the issue.
The group of experts, attending the workshop, worked on drawing a roadmap and initiating activities around OIC countries to realize a successful digital transformation.
Digital transformation is gaining international interest and is touching every part of our society and economic life.
Countries like Turkey, UAE, Malaysia, Qatar and Saudi Arabia, have made great achievements and have managed to have a lead in transforming their communities. Other OIC Countries had also managed to have a fingerprint in this regard.
More than half of the globe will be connected by 2020.
Photos