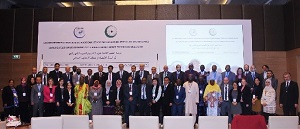 SESRIC organised the Second Workshop on Technical and Vocational Education, and Training (TVET) in OIC Member States on 6-7 November 2018 in Ankara, Turkey.
The workshop brought together managers of TVET authorities from 26 OIC member countries, as well as representatives of IsDB, ILO, MYK, ISMEK, IŞKUR, IBB, UNDP IICPSD, TIKA, IUIU, IUT, and ICDT.
The main objective of the workshop was to review and adopt the OIC-VET Strategic Roadmap, prepared through working groups of experts from institutions, in order to improve the quality of TVET systems in line with the OIC-2025 Programme of Action and the Sustainable Development Goals of 2030 Agenda.
The workshop also identified new projects proposals and explored future avenues of collaboration among respective TVET authorities towards building an intra-OIC partnership fulfilling the noble objectives of the said roadmap.
Photos: https://flic.kr/s/aHsmorruwU