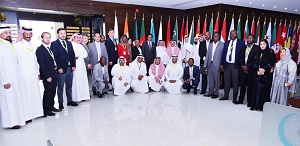 SESRIC attended the Workshop on "The Role of Social Media in Supporting the Work of the OIC", organized by the Organization of Islamic Cooperation, world's second largest inter-governmental organization, on 15 November 2018 in Jeddah, Saudi Arabia.
The Workshop brought together, bloggers and social media influencer to introduce them with the efforts, programmes and activities of the OIC in humanitarian, environment, cultural, social and political areas, as well as with the Organisation's contribution in the fight against Islamophobia and extremist ideologies.
Moreover, the Workshop included sessions and discussion on the OIC's efforts on the area of Economy, culture, family, dialogues and more. In addition, the workshop discussed how social networkers deal with terrorism and extremist and Islamophobia in their work. The aim was to make social media activist more sensitive in handling the news related to these issues.
The objective was to establish a practical partnership between the OIC and Bloggers, tweeps and social media influencers, and help increase awareness of the Organisation's efforts and projects on a global scale through social networks. Moreover, the workshop examined the role of social media in promoting an understanding of the OIC's work and explored ways to strengthen the cooperation between the OIC and people across the world via social media platforms.
The ultimate goal was to increase the visibility of the OIC regionally and worldwide by showing the Organisation's contribution in these areas and teach social networkers how these efforts can drive positive results for and beyond the OIC Countries.
Photos