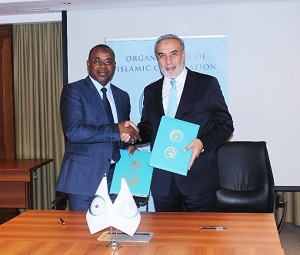 The Statistical, Economic and Social Research and Training Centre for Islamic Countries (SESRIC) and the Islamic Financial Services Board (IFSB) signed today a Memorandum of Understanding (MoU) to reinforce the collaboration on the field of Islamic finance statistics.
The MoU was signed by H.E. Ambassador Musa Kulaklıkaya, Director General of SESRIC and Dr. Bello Lawal Danbatta, the Secretary-General of the Islamic Financial Services Board (IFSB). The first MoU between the IFSB and SESRIC was signed in 2012 in Istanbul, Turkey.
This collaboration will increase knowledge of practitioners, statisticians as well as researchers in the Islamic banking and finance, Islamic capital markets, takāful and other socio-economic sectors and strengthen the capacities of the relevant constituents of national statistical systems in their common member countries. Under this agreement, key areas of cooperation between the IFSB and SESRIC include, among others:
Reviewing roles of each party on Islamic finance data compilation through identifying current projects and initiatives to avoid duplication of efforts while ensuring complementary role of each other;
Addressing the gaps in Islamic finance related data and achievement of consistency in national statistical systems to facilitate the production of comparable data;
Pursuit of a continuous dialogue and establishment of appropriate synergy between the two Parties; and
Providing each other the platform to reaching out member organisations to extend coverage of respective databases.
The IFSB – SESRIC MoU signing ceremony took place during the International Symposium on Financing for Development in Istanbul, Turkey, jointly organized by SESRIC and the Islamic Development Bank (IsDB).
Photos: https://flic.kr/s/aHsmxq61Dt