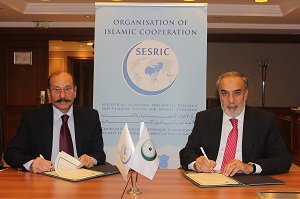 The Statistical, Economic and Social Research and Training Centre for Islamic Countries (SESRIC) and the Commission on Science and Technology for Sustainable Development in the South (COMSATS), signed a Memorandum of Understanding (MoU) to strengthen their cooperation in the areas of common interest and promote sustainable social and economic development in their respective member states.
The MoU was signed by HE Amb. Musa Kulaklıkaya, Director General of SESRIC and Dr. S.M. Junaid Zaidi, Executive Director of COMSATS at a ceremony held during the 2nd Training Course for Junior Diplomats from the OIC Countries, which took place in Istanbul, Turkey between 26 and 29 November 2018.
The MoU provides a framework of cooperation and aims to facilitate collaboration between the two parties in matters concerning the field of sustainable socio-economic development, through science, technology and innovation.
COMSATS was established as an intergovernmental organization with its permanent secretariat based in Islamabad, Pakistan and is one of the highest forums for the promotion of South-South cooperation in science and technology with the objective of achieving sustainable socio-economic progress in the developing countries.
Photos