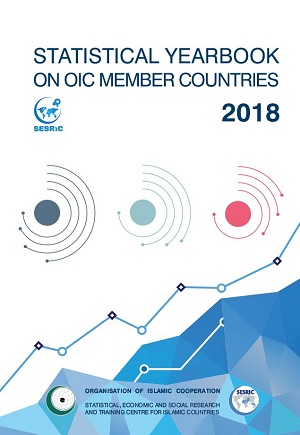 The Statistical, Economic and Social Research and Training Centre for Islamic Countries (SESRIC) launched the 2018 Edition of its Statistical Yearbook (SYB) on OIC Member Countries at the Fourth Session of the Annual Coordination Meeting of OIC Institutions (ACMOI) on 3 December 2018 in Jeddah, Saudi Arabia.
The SYB on OIC Member Countries 2018 delivers a wide range of statistics on different categories with the intention to provide digestible information across multiple socio-economic sectors.
Launched for the first time in 1980, the content of the current edition has been revised and enriched and the 2018 edition of the SYB covers 20 categories with 277 indicators for the period 2000 to 2018.
The categories covered are Agriculture, Demography, Education, Energy, Environment, Gender and Family, Health, Industry and Manufacturing, Infrastructure, International Finance, Islamic Banking and Finance, Labour and Social Protection, Money and Prices, National Accounts, Public Finance, Science, Technology and Innovation, Tobacco Control, Tourism, Trade and Water.
The 2018 Yearbook serves as a reference and aims to facilitate cooperation among the OIC member countries by increasing statistical awareness and helping in making evidence-based decisions. The yearbook not only shows the individual performance of OIC member countries but also that of the OIC as a group vis-à-vis the world across selected indicators.
Starting with 2019, apart from the annual edition, SESRIC will start publishing the fortnightly "OIC Statistical Outlook" which will cover in each issue a particular category hosted at OIC Statistics (OICStat) Database.
Through this approach, the readers will be able to access the thematic statistical analysis and tables rapidly.
Online Electronic Version
Statistical Yearbook on OIC Member Countries 2018 (English)