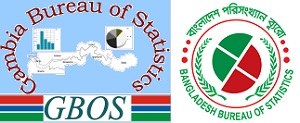 In accordance with its 2018 Annual Work Plan and within the framework of Statistical Capacity Building (StatCaB) Programme, SESRIC organised the Statistics Course on 'Education Statistics' at the Gambia Bureau of Statistics (GBoS) on 7-9 January 2019.
The Statistics Course was conducted by Mr. Mohammad Shafiqul Islam, Deputy Director at the Bangladesh Bureau of Statistics (BBS), with the participation of 17 officials of the GBoS and Ministry of Higher Education, Research, Science & Technology (MoHERST) of Gambia.
The Statistics Course on 'Education Statistics' included discussion activities with a focus on the following topics:
Importance of Education Statistics;
Basic Definition of Education Statistics: Understanding Key Terms;
Sharing the Experience from the Bangladesh Context;
Methods of Collecting Education Statistics;
Questionnaire Design, Data Processing and Analysis;
Employment in the Education Sector: GDP Perspective;
International Comparative Education Data and Indicators; and
SDGs and Education.
For more information on OIC Statistical Capacity Building (StatCaB) Programme and its activities, please visit: http://www.oicstatcom.org/statcab.php