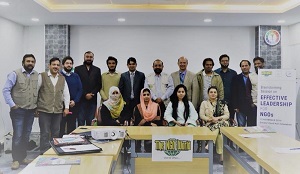 SESRIC, in collaboration with the Institute of NGO Leadership and Management (INGOLAM) organized a 1-day Brainstorming Session on effective leadership for NGOs on 13th November 2018 in Islamabad, Pakistan.
The main aim of the session was to strengthen the leadership and management abilities of the individuals who work for nonprofit organizations. The session also aimed at exploring the real life opportunities and challenges faced by the NGO sector.
The session brought together the top managers from the NGO sectors, program managers, social and human services, health care, community development, arts, environment and educational organizations to extend their professional development and build an enduring network.
Participants also found an opportunity to exchange experience and share the challenges faced by them in their respective NGO sector.
Photos