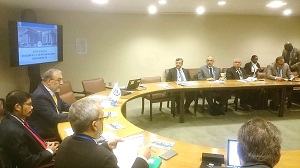 SESRIC, in its capacity as the Secretariat of the OIC Statistical Commission (OIC-StatCom), organised the Meeting with the Delegates of National Statistical Offices of OIC Member Countries on 7 March 2019 as a side event meeting of the 50th Session of the United Nations Statistical Commission in New York, USA. Thirty-one delegates from 19 OIC member countries including Albania, Algeria, Burkina Faso, Egypt, Gambia, Guyana, Indonesia, Malaysia, Mali, Mozambique, Oman, Palestine, Pakistan, Qatar, Saudi Arabia, Suriname, Tunisia, Uganda and UAE, as well as two international organisations including United Nations Statistics Division (UNSD) and United Nations Economic and Social Commission for Western Asia (UNESCWA) attended the meeting.
H.E. Amb. Musa Kulaklıkaya, Director General of SESRIC, stated in his welcoming remarks that SESRIC exerts the maximum efforts to contribute to the statistical capacity development of the member countries of the Organisation of Islamic Cooperation (OIC). Ambassador Kulaklıkaya went on to say that throughout the seven sessions of OIC-StatCom, OIC member countries directly have a say in giving the direction to the activities to be undertaken for statistical capacity development. Therefore, SESRIC uses the resources in the most efficient way both to increase the number of activities conducted and the number of partnerships established with other international and regional entities.
At the side event, SESRIC briefed the delegates on the progress of the OIC-StatCom activities, including future projects. The delegates also shared their inputs and comments about the possible themes of the Eighth Session of OIC-StatCom that will take place in the fourth quarter of 2019.
Additionally, the Chief Statistician of the Department of Statistics of Malaysia (DoSM), Dr. Mohd. Uzir Mahidin informed the participants about the 62nd World Statistics Congress which will take place on 18-23 August 2019 in Kuala Lumpur, Malaysia.
Document
Photos