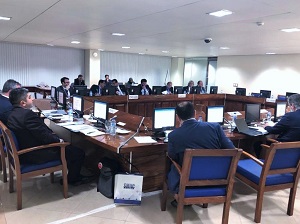 Relevant OIC Institutions came together in the capital of Pakistan, Islamabad, to attend the First Meeting of the Steering Committee for the implementation of OIC Science, Technology and Innovation (STI) Agenda 2026. The Meeting took place at the COMSTECH Secretariat between 18 and 19 March 2019 and reviewed the draft implementation plan of the OIC STI Agenda.
Representatives of the Islamic Development Bank (IsDB), the Islamic Educational, Scientific and Cultural Organization (ISESCO), the Statistical, Economic, Social Research and Training Center for Islamic Countries (SESRIC), the Standing Committee for Economic and Commercial Cooperation (COMCEC), the Standards and Metrology Institute for Islamic Countries(SMIIC), the Islamic Conference Youth Forum (ICYF), the OIC Computer Emergency Response Team (OIC-CERT), the Islamic Chamber of Commerce and Industry (ICCI) and the Islamic World Academy of Sciences (IAS) attended the meeting.
At the meeting, it was decided that the OIC institutions would liaise with the OIC Member States to raise public awareness and conduct capacity-building activities. The meeting also discussed various aspects regarding the holding of the Second OIC Summit on Science and Technology in Uzbekistan in 2020.
The First OIC Summit on Science and Technology was held in Astana in September 2017 and adopted the OIC STI Agenda 2026, which outlines priorities and targets for the advancement of science and technology in Muslim countries.
Upon OIC leaders' request, COMSTECH has established the Steering Committee, comprising all relevant OIC institutions, which meets every six months to review the progress made on the implementation plan.