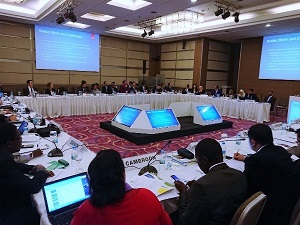 The 13th Meeting of the COMCEC Poverty Alleviation Working Group was held on 4 April 2019 in Ankara, Turkey, under the theme "Access to Health Services in the OIC Member Countries."
The Meeting covered several items with a focus on the state of access to health services in the OIC Member Countries, lessons learned from the various selected case studies and an overview of access to health services on the rest of the world. The working group held a session on policy debate on enhancing access to health services in the OIC.
During the meeting, SESRIC delivered a presentation on the OIC Strategic Health Programme of Action 2014-2023 (OIC-SHPA) and its role in enhancing the intra-OIC efforts to improve the universal healthcare coverage across the Member Countries. The presentation also highlighted SESRIC's efforts towards implementation of OIC-SHPA through initiatives like Ibn Sina Health Alliance of NGOs, OIC Maternal and Child Survival Project, OIC Network on Population and Reproductive, Maternal, Newborn and Child Health, and 'Tobacco Questions for Surveys (QTS)' into the National Surveys in OIC countries.
The meeting also included other agenda items such as the perspective of international organizations, NGOs and Local authorities; presentations from member states; COMCEC Poverty Outlook and discussions on how to utilize the COMCEC Project Funding.