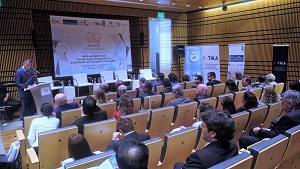 SESRIC, Turkish Cooperation and Coordination Agency (TIKA), UNDP Istanbul International Center for Private Sector in Development (IICPSD) and United Nations Office for South-South Cooperation (UNOSSC) jointly organized a side event on "Private Sector Engagement in South-South and Triangular Cooperation for Sustainable Development" on 20 March 2019 in Buenos Aires, Argentina.
The panel discussion took place on the sidelines of the Second High-level United Nations Conference on South-South Cooperation (BAPA+40 Conference), convened on the occasion of the 40th anniversary of the adoption of the Buenos Aires Plan of Action for Promoting and Implementing Technical Cooperation among Developing Countries (BAPA).
The panel hosted speakers from SESRIC, UNDP IICPSD, and UNOSSC, high-level representatives from governments and technical/development cooperation agencies, as well as professionals from the private sector, including representatives of businesses and business associations, public sector and academia with the expertise and experience in the field of private sector engagement in South-South cooperation.
The objective of the panel discussion was to explore ways to mainstream the private sector engagement in South-South and Triangular cooperation through the integration of the private sector into new and existing SSTC initiatives. The event also shared good practices from the field and illustrated ways to create an enabling environment to promote private sector engagement in South-South and Triangular Cooperation.
During the event, H.E. Amb. Sedat Önal, Vice Minister, the Ministry of Foreign Affairs of the Republic of Turkey and Ms. Xiaojun Grace Wang, Deputy Director, UNOSSC, launched the report on "South-South and Triangular Cooperation Solutions for Sustainable Development." The report was prepared based on the success story of the Global South-South Development (GSSD) Expo, organized on 27- 30 November 2017 in Antalya, Turkey. SESRIC, in cooperation with TIKA and Turkic Council, took part as an implementing partner in the organization of the GSSD Expo 2017.
The BAPA+40 Conference aimed to provide further momentum to encourage intensive and collaborative actions through partnerships and collaboration and to strengthen the role of South-South cooperation and triangular cooperation in the implementation of the 2030 Agenda for Sustainable Development.
Document
Photos