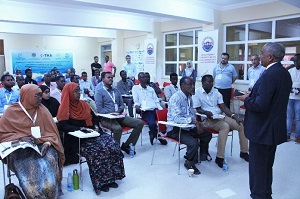 SESRIC, the Ministry of Health of the Republic of Turkey, the Federal Ministry of Health of Republic of Sudan, and the Turkish Cooperation and Coordination Agency (TİKA) organized a training course on "Disaster and Prehospital Emergency Medicine" on 23-27 March 2019 in Mogadishu, Somalia.
A group of 30 health workers selected by the Ministry of Health of Somalia benefited from the training.
Sudanese and Turkish trainers conducted the training course as part of a joint project between SESRIC, the Ministry of Health of the Republic of Turkey, TIKA and the Federal Ministry of Health of the Republic of Sudan on "Strengthening Coordination and Capacity Building on Preparedness and Response for Health Emergencies in the OIC Member States."
The course covered relevant topics, such as emergency medical services, ambulance equipment, incident scene management, approach to urgent patient with trauma, basic life support, treatment algorithm for resuscitation, approach to pediatric emergencies, neonatal resuscitation program (NRP), disaster and emergency medicine management, hospital disaster planning, SALT Triage, infectious disease control, crush syndrome and CBRN etc.
The project is carried out within the framework of the Strategic Health Programme of Action (SHPA) 2014-2023, under "Thematic Area 5 on Emergency Health Response and Interventions".
The first phase of the project, which included various training of trainers in both Sudan and Turkey as well as three pilot training courses carried out by Sudanese trainers under the supervision of Turkish specialists, has been successfully implemented.
Photos