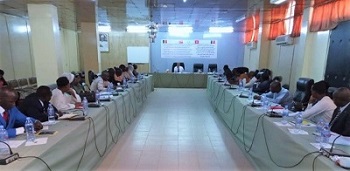 SESRIC, in collaboration with the Diplomatic Institute for Training and Studies (IDFE) of Tunisia, organised a training course on "Bilateral Negotiation" on 23-24 April 2019 in N'djamena, Chad.
H.E. Amb. Ezzeddine Zayani, trainer at the IDFE, conducted the training with the participation of relevant officials of the Ministry of Foreign Affairs, African Integration, International Cooperation and Diaspora of Chad.
The training was organised within the framework of the Diplomacy Capacity Building Programme (Diplomacy-CaB).
SESRIC organizes various training courses within the framework of its Diplomacy-CaB Programme to strengthen cooperation among diplomacy stakeholders in the OIC Member Countries.
For more information on Diplomacy Capacity Building Programme (Diplomacy-CaB) and its activities, please visit: http://www.oicvet.org/cbp-dipcap.php