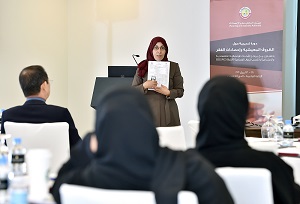 SESRIC organised a Statistics Course on 'Living Conditions, Poverty and Cross-Cutting Social Issues' on 28-30 April 2019 at the Planning and Statistics Authority (PSA) of Qatar within the framework of OIC Statistical Capacity Building (StatCaB) Programme.
Ms. Maha Dawas, Head of Poverty Statistics at Department of Statistics of Jordan (DoS), conducted the course with the participation of relevant officials of the PSA of Qatar.
The Course included discussion activities with a focus on the following topics:
Definition of surveys, expenditure and consumption survey-panel surveys:

Explanation of expenditure and consumption Survey
Consumption concepts to measuring standards of living
The methodology of expenditure and consumption surveys

Data sources of measurement and analysis of poverty and inequality
Poverty concepts:

Monetary poverty
Multi-dimensional poverty

Determining poverty line:

Absolute poverty line; Extreme poverty line; Nonfood poverty line

Measuring poverty indicators:

Poverty rate; poverty gap; poverty severity

Poverty profile
Measuring inequality indicators

Lorenz curve
Gini coefficient

Middle class in Arab countries.
For more information on OIC Statistical Capacity Building (StatCaB) Programme and its activities, please visit: http://www.oicstatcom.org/statcab.php
Photos