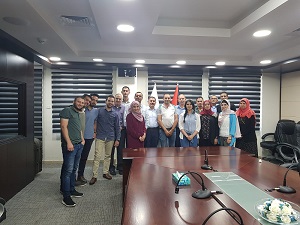 SESRIC organised a Training Course on 'Treated Wastewater Reuse' on 11-13 June 2019 in Ramallah, Palestine within the framework of the OIC Water Resources Management Capacity Building Programme (Water-CaB).
Prof. Dr. İsmail Koyuncu, Professor at Istanbul Technical University, conducted the training with the participation of 18 experts from the Palestinian Water Authority (PWA), Ministry of Agriculture of Palestine, Municipality of Jericho, Nablus and Jenin and the Joint Service Council of Maythloun and Tayebh-Ramon.
The Training Course included the following topics:
Water Reuse: An Introduction
Water Reuse: Past and Current Practices
Health and Environmental Concerns in Water Reuse
Water Reuse Regulations and Guidelines
Technologies and Systems for Water Reclamation and Reuse
Disinfection Processes for Water Reuse Applications
Satellite, Onsite and Decentralized Systems for Water Reuse
Distribution and Storage of Reclaimed Water
Water Reuse Applications: An Overview
Agricultural Uses of Reclaimed Water
Urban Nonirrigation Water Reuse Applications
Groundwater Recharge with Reclaimed Water
Direct and Indirect Potable Reuse
SESRIC organises various training courses within the framework of its Water-CaB Programme to enhance capacities of human resources and play an active role in facilitating the exchange of knowledge and best practises in the domain of water in the OIC Countries.
For more information on the OIC Water Resources Management Capacity Building Programme (Water-CaB) and its activities, please visit http://www.oicvet.org/cbp-water.php.
Photos