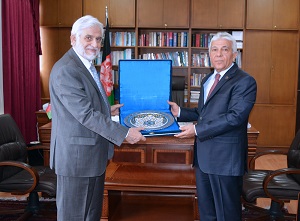 H.E. Mr Nebil DABUR, Director General of SESRIC, paid a visit to H.E. Amb. Abdul Rahim SAYEDJAN, Ambassador of the Islamic Republic of Afghanistan to Ankara on 29 May 2019.
Amb. SAYEDJAN congratulated Mr DABUR for his appointment as the Director General of SESRIC, wishing to him and the Centre all the best in the endeavours towards providing high-quality services to the OIC Member States in area of statistics, research and training.
H.E. Amb. SAYEDJAN has been recently introduced by the Ministry of Foreign Affairs of Afghanistan as a new member and the Chairman of the Board of Directors of SESRIC for the period from 1st April 2018 to 31st March 2021, replacing his predecessor H.E. Amb. Mohammad Wali Naeemi.
During the Meeting, H.E. Mr DABUR briefed Amb. SAYEDJAN on the system and the role of the Board of Directors of the Centre and the preparation of the upcoming 42nd Meeting of the Board, which is scheduled to be held in December this year.
Photos