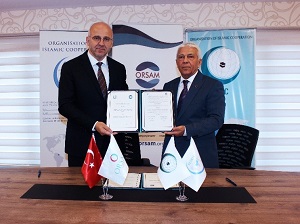 The Statistical, Economic and Social Research and Training Centre for Islamic Countries (SESRIC) signed a Memorandum of Understanding (MoU) with the Center for Middle Eastern Studies (ORSAM) to strengthen the collaboration and partnership in areas of common interest.
The MoU provides a framework of cooperation that aims to facilitate collaboration between the two institutions in achieving common goals.
The MoU was signed by H.E. Mr Nebil Dabur, Director General of SESRIC, and Prof. Dr Ahmet Uysal, President of ORSAM, during a ceremony held on 22 August 2019 at ORSAM Headquarters in Ankara, Turkey.
ORSAM is a non-partisan and non-profit research centre based in Ankara.
In line with the MoU, the two institutions will work together to conduct joint research on common issues, organise seminars, symposiums and workshops, and share experience and knowledge regarding socio-economic statistical data, by focusing on the OIC Member States in the Middle East Region.
Photos