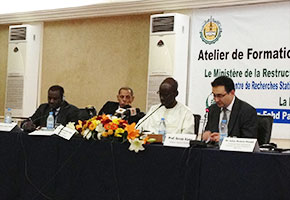 SESRIC, in collaboration with the Islamic Development Bank (IDB) and Ministry of Restructuring and Rehabilitation of Floods Zones in Senegal, organized a training workshop on Flood Risk Management in Dakar, Senegal during 18-19 March 2013. The aim of the workshop was to facilitate the transfer of knowledge, experience and best practices of some member countries and international organizations in the field of flood risk management as well as water resources management.
Seven experts from two member countries and three international organizations provided trainings during the two-day workshop. The workshop is attended by around 100 participants from various ministries, relevant authorities and NGOs in Senegal as well as representatives from Benin, Mauritania, Burkina Faso and Niger.
In the opening session, Mr Sidi Mohamed Ould Taleb, Regional Director of IDB, Prof. Savas Alpay, Director General of SESRIC, and H.E. Mr Khadim Diop, Minister of Restructuring and Rehabilitation of Floods Zones, Senegal delivered their statements on the importance of effective management of flood risks in Senegal as it turns out to be a recurrent phenomenon since 1989. While much of the blame can be attributed to climate change, rapid urbanisation plays a critical factor in increasing the vulnerability to floods in Senegal with direct consequences in economy, health and social welfare.
After the opening session, a short presentation has been made by the Senegalese authorities on the facts and figures in floods and importance of managing floods in Senegal. After the country presentation, Mr Julius-Wellens-Mensah, Acting President of the Commission for Hydrology in World Meteorological Organization (WMO) in Switzerland made a presentation on the Associated Programme on Flood Management and on their integrated flood management approach. He emphasized the fact that flood risk management has many aspects and should not be restricted to only structural measures. There is a need for paradigm shift towards an integrated approach and WMO is ready to cooperate in this respect. In the second working session, Dr. Giorgio Boni, Scientific Director at International Centre on Environmental Monitoring (CIMA) in Italy made a presentation on Non-structural measures and early warning systems for the real time prediction of flood risk scenarios. After discussing the experience of Italy in early warning and civil protection, he emphasized the need for real-time management of floods.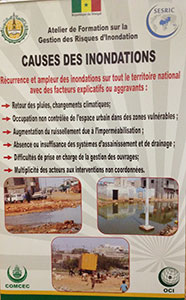 In order to share their country experiences Mr. Ahmad Kamal from Pakistan and Ms. Demet Şahin and Dr. Emre Akçalı from Turkey, representing their national institutions, made presentations on their country-specific approaches in managing floods and flood risks and recommended some approaches that can also be implemented in Senegal. In the final working session, Mr. Mansour Tall, Head of Programs in Senegal for UN Habitat and Mr. Choung-kyu Ryu, Project Officer, made presentations on UN Habitat experiences in urban planning and flood risk management in African cities. A side visit also has been organized to a sub-urban area where floods have significant impact on the people and livelihood.
In the closing session, all experts came together in a panel session and provided their further recommendations that can be implemented in Senegal and in neighbouring countries to mitigate the impacts of floods and manage the associated risks effectively.
The training workshop on Flood Risk Management in Senegal was one of the initial efforts of SESRIC and IDB towards enhancing the capacities of the relevant national institutions dealing with natural disaster risk reduction management in OIC member countries. The workshop offered a distinct opportunity and practical approach to transfer the knowledge, experience and best practices of Turkey and Pakistan and international organizations in the field of flood risk management, including WMO, UN Habitat, and CIMA Research Foundation.
Consequently, the two-day training workshop provided participants the knowledge and experience on: (1) Various concepts and approaches for various phases of flood risk management: risk analysis, prevention, protection, preparedness, response and recovery; and (2) Best practices of flood risk management in some member countries: lessons learned from both successful and failed experiences.
Documents
Presentations