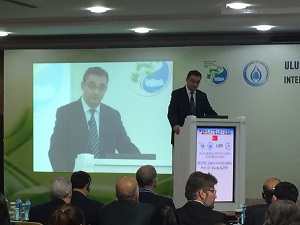 Statistical, Economic and Social Research and Training Centre for Islamic Countries (SESRIC) in collaboration with the Ministry of Forestry and Water Affairs of the Republic of Turkey and the Turkish Water Institute (SUEN), organised the International Integrated Basin Management Workshop on 25-26 February 2014 in Istanbul, Turkey.
High level managers from 18 countries participated in the workshop including 14 OIC Member Countries namely Djibouti, Tunisia, Algeria, Palestine, Kyrgyzstan, Uzbekistan, Jordan, Sudan, Azerbaijan, Iraq, Kazakhstan, Turkmenistan, Albania and Turkey.
Prof. Savaş Alpay, Director General of SESRIC, delivered an inaugural speech at the opening session of the event where he emphasized the importance of water management in OIC Member Countries. He indicated that 23 OIC Member Countries suffer from water stress and water security issues. Prof. Alpay also added that 24% of population is without access to improved drinking water resources in OIC Member Countries compared to 21% in the world.
A fair has been organised during the workshop to demonstrate activities and publications of participating institutions. Dr. Nurettin Akman, Deputy Minister of Forestry and Water Affairs of Turkey, Mr. Mohamed Hassan Ahmed El-Hadari, Deputy Minister of Water Affairs from Sudan, Prof. Savaş Alpay, Director General of SESRIC and representatives from participating countries joined the opening ceremony of the fairground.
During the workshop, representatives of the participating countries reviewed recent developments in international integrated basin management and expressed their vision, plans and expectations for increased cooperation in this field. Main topics of the workshop sessions included:
River Basin Management
Hydraulic Works
Meteorology
Forestry and Nature Conservation
Agriculture
International Cooperation Activities
A round table meeting took place at the end of second day of the event, to review outcomes of the issues that have been discussed during the sessions and seek possible cooperation opportunities, as well as to explore possibilities of organizing similar events in the future.
Welcome Message
Speech of Prof. Savaş Alpay, Director General, SESRIC (English)
Presentations
Photos