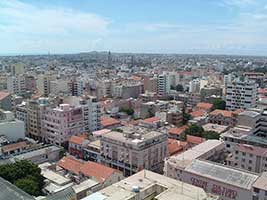 Prof. Savaş Alpay, Director General of SESRIC, was awarded with the title "Doctor Honoris Causa" by the African Institute of Management (IAM) during the International Fair on Muslim Business which was held in Dakar, Senegal, during the period 11-15 November 2013.
The IAM is a respected institution of training and management in Senegal which mainly deals with the problems of Africa. The said award was presented to Prof. Alpay to mark his academic and professional background, particularly the valuable contribution of SESRIC in the study of economic and social problems of the OIC Member Countries.
As part of the ceremony, the Director General gave a presentation entitled "Islamic Finance: Prospects and Challenges in the Post Global Financial Crisis Era", which mainly covered the primary function of finance and a diagnosis of the fault lines in the current financial system, as well as the current developments, prospects and challenges of Islamic finance.