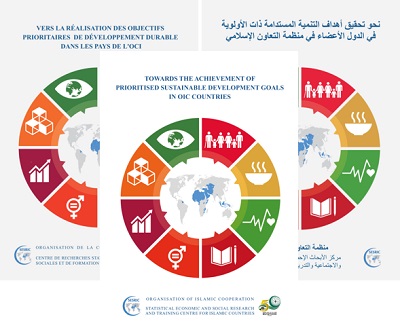 SESRIC has launched its newest report titled "Towards the Achievement of Prioritised Sustainable Development Goals in OIC Countries" during the Senior Officials Meeting (SOM) of the 35th Session of COMCEC on 25 November 2019 in Istanbul, Turkey. H.E. Mr. Nebil DABUR, Director General of SESRIC, presented the key highlights of the Report during the SOM.
The Report uses a selected set of 44 indicators fit for making a trends analysis on the prioritised SDGs including SDGs 1-5, 8, 9, and 13. The Report also analyses whether the selected indicators have moved towards or away from the related SDGs targets.
The Report reveals that the OIC countries as a group will not be able to achieve the prioritised SDGs by 2030 if they continue at the current pace. Although progress has been observed in SDGs 1, 3, 4, and 9 in the OIC countries group, these improvements are not sufficient to achieve the targets of these prioritised SDGs by 2030.
The Report presents that stagnant progress has been recorded in SDGs 2 and 8, however, it is too slow for the OIC countries group to be on track for the achievement of these two SDGs by 2030. Additionally, lack of data prevents a comprehensive analysis on SDGs 5 and 13.
The Report also calls on the OIC countries to intensify their collective efforts to close the data gaps for better monitoring the SDGs and provide a knowledge base that can contribute to the acceleration of achieving the SDGs.
Online Electronic Version