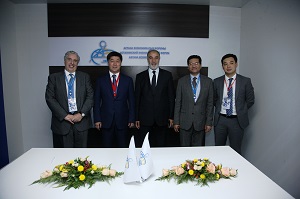 On the sideline of the recently concluded Second Regional Networking Forum for the Arab States, Europe and the CIS on South-South and Triangular Cooperation which took place in Astana, Kazakhstan, SESRIC and the Steering Committee of the Regional Hub of Civil Services in Astana (The Hub) signed a Memorandum of Understanding to promote closer collaboration between the two institutions. The MoU was signed by H.E. Amb. Musa Kulaklıkaya, Director General of SESRIC and Alikhan Baimenov the Chairman of the Hub.
The partnership is envisaged to be wide-ranging as well as a flexible and dynamic in allowing SESRIC and the Hub to collaborate in designing and developing new projects and initiatives such as exchange of knowledge and experience, research and staff development that will foster a collaborative relationship.
In his remarks shortly after signing the MoU, the Director General of SESRIC, H.E. Amb. Musa Kulaklıkaya noted that both institutions have a vital role to play in development, especially with the unanimous adoption of the 2030 Agenda for Sustainable Development and the 17 related Sustainable Development Goals (SDGs) by the UN members states in September 2015, hence the importance of strengthening of cooperation to develop targeted development strategies and policies and help their member countries relies their development targets.
Photos