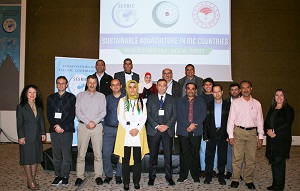 SESRIC organized a 5-day Study Visit on "Sustainable Aquaculture in OIC Countries" on 03-07 December 2018 in Antalya, Turkey. The visit was organised within the framework of OIC Agriculture Capacity Building Programme and mainly focused, among others, on the following topics:
Water Quality for Aquaculture, Freshwater Fish Culture, Ornamental Fish Production, Fish Nutrition, Technological Improvements in Aquaculture, Environmental Management of Aquaculture, Hygiene in Aquaculture, Sampling for Fish Disease Laboratory, Bacterial Fish Diseases, Parasitic and Viral Fish Diseases, Application of Anesthesia and Sedation in Fish and Fish Vaccines and Vaccination Methods.
Following the theoretical training course, the study visit included technical visits to Antalya Fisheries, Mediterranean Fisheries Research, Production and Training Institute (AKSAM) and Fisheries in Beymelek.
Photos