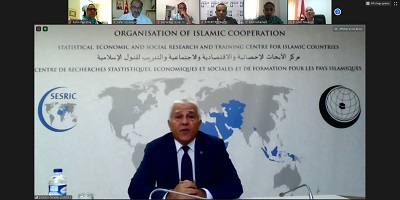 Within the framework of SESRIC's Occupational Safety and Health Capacity Building Programme (OSHCaB), SESRIC organized a training course on "Inspection Services for Occupational Safety and Health" on 13-21 July 2020.
The course was conducted through a video conferencing platform and provided an interactive learning environment and opportunity for the benefit of 22 work inspectors from the National Social Security Fund (CNSS) and the Inspection of Labour and Social Laws of the Ministry of Labour in charge of Administrative Reform of the Republic of Djibouti. The training course was provided by a competent expert from Tunisian Occupational Safety and Health Institute (TOSHI).
The course mainly focused on the fundamentals of safety and health at work and the management of emergency measures plan. It aimed to develop the aptitude and skills required to plan and prepare effective emergency plans, to understand evacuation and emergency response procedures, and thus better manage in emergencies.
The training course was designed in line with the virtual training solutions undertaken by SESRIC in order to better serve utilization of the Centre's training activities and keep participants motivated and engaged during this time of global crisis due to COVID-19.
Photos