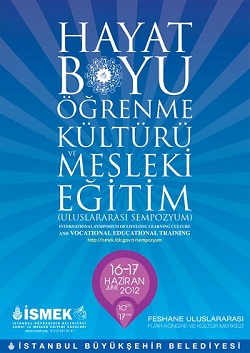 The Centre for Art and Vocational Training Courses of Istanbul Metropolitan Municipality (ISMEK), a partner of the OIC-VET Programme, organized an "International Symposium of Culture of Lifelong Learning and Vocational Education" as part of its 15th General Exhibition and Festival on 16-17 June 2012 in Istanbul, Republic of Turkey. Mr. Huseyin Hakan Eryetli, Director of Training and Technical Cooperation Department, represented the Centre thereat.
The symposium was organized with the aim of creating a vision for future in vocational education as well as discussing the role of the lifelong learning in relation with the development of qualified human resources, promoting adult education and dissemination of vocational education. The change, transformation and development of vocational education from ancient civilizations to date have also been discussed during the symposium. Participants specialized in different fields made presentations on various subjects during the sessions of symposium, "Culture of Lifelong Learning: New Visions and Pursuits"; "Importance of Vocational Education in Lifelong Learning"; "Vocational Education and Employment: Trends, Policies and Experiences"; and "Local and Global Experiences in Promotion of Vocational Education".
On 16 June 2012, the Conference commenced with the welcome addresses of Mr. Ferrah Şarman, Director of Human Resources and Education at Istanbul Metropolitan Municipality. Following the welcome addresses, Mr. Andreas Schleicher, Organization for Economic Co-operation and Development (OECD), delivered a keynote speech on vocational education.
Mr. Huseyin Hakan Eryetli made a presentation on "Vocational Education in OIC Member Countries and SESRIC-ISMEK Cooperation" in the last session of the conference moderated by Prof. Dr. Adem Esen, Rector of Sabahattin Zaim University. In his presentation, Mr. Eryetli provided the statistical data on the level of education and unemployment in OIC Member Countries and discussed the importance of vocational education and skill development in order to respond the challenges that Muslim societies face. He further stated that ISMEK is a very bright example of lifelong learning and vocational education and has been introduced to some OIC Member Countries so far like Azerbaijan, Indonesia, Iran, Kuwait, Libya, Morocco, Pakistan, Syria and Yemen. Mr. Eryetli also emphasized that ISMEK would precisely be extended to other OIC Member Countries as a role model and SESRIC comprehensively and mutually works with ISMEK to disseminate this model in the member countries.
Photos