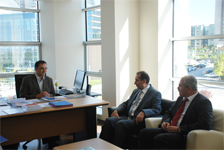 SESRIC and Aegean International Federation of Health (ESAFED) signed a Memorandum of Understanding on 10 September 2012 at the new headquarters of SESRIC. The MoU promotes cooperation between two organisations in providing training courses on health related issues.
ESAFED Chairman, Prof. Dr. Mustafa Sarsılmaz, and SESRIC Director for Training and Technical Cooperation Department, Hüseyin Hakan Eryetli, signed the Memorandum of Understanding (MoU) with the presence of Ahmet Gunes, ESAFED General Coordinator, Dr. Ali Iravul, ESAFED Board Member and the researchers of SESRIC Training and Technical Cooperation Department.
The MoU aims to develop cooperation between two institutions to further increase the quantity, quality and scope of the health trainings implemented under the framework of Ibni Sina Health Capacity Building Programme. It will correspondingly enable two institutions to develop and implement more comprehensive projects in coherence with the needs of the health institutions of the OIC Member Countries.
In the operationalization of the MoU, SESRIC and ESAFED will be undertaking the implementation of joint trainings and projects, in collaboration with other international and regional organizations, for OIC Member Countries. They will also focus on the training of health professionals and healthcare staff working in health institutions.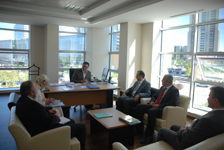 After MoU signed, ESAFED delegation paid a visit to Dr. Savaş Alpay, SESRIC Director General. Dr. Alpay stated health care is a basic service essential in any effort to combat poverty and increase the well-being of Islamic countries. In this connection, Dr. Alpay said the setting up a cooperation framework between SESRIC and ESAFED is of high importance and will enable two institutions to leverage on their mutual strengths in enhancing the health system of OIC Member Countries through capacity building activities.
Photos