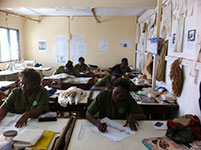 Within the framework of the OIC-VET Programme, SESRIC in collaboration with the Islamic Development Bank (IDB) has initiated a project titled "Skill Development for Youth Employment (SDYE)" with a view to contributing to the efforts of the OIC Member Countries towards decreasing the high unemployment rates, particularly among youth. As an initial phase of the SDYE programme, a Study Visit was organized in Ankara, Republic of Turkey on 11-13 January, 2012 with the participation of relevant institutions from eight selected pilot member countries to share and exchange the experience of Turkey in fighting against youth unemployment through, in particular, the project named "Skill 10 Project". The Study Visit also discussed the possible ways and means of transferring the Turkish experience in "Skill 10 Project" as a best practice to the eight selected pilot OIC Member Countries.
Accordingly, the Turkish model of vocational education in fighting youth unemployment was appreciated by the participants and Cameroon was one of the countries which have requested IDB and SESRIC to help them in replicating it.
In this framework, as the second phase of "Skill Development for Youth Employment" project, a field visit was organized by the Statistical, Economic and Social Research and Training Centre for Islamic Countries (SESRIC) in partnership with Islamic Development Bank (IDB), Ministry of National Education and the Union of Chambers and Commodity Exchanges of Republic of Turkey, Turkish Employment Agency and Economic and Trade University of TOBB (TOBB-ETU), on 28 November – 3 December 2012 in Yaoundé, Republic of Cameroon. A joint mission composed of members from abovementioned institutions visited relevant Ministries, private organizations, NGOs, public institutions, vocational schools and enterprises in order to identify the potential areas of intervention and assessing the possibility of replicating the "Skill 10" project of Turkey in Cameroon.
During the field visit, a "Road Map" was developed through a cooperative process involving all stakeholders. The road map consists of two phases where each step is described in detail. The first phase, the preliminary phase involves desk review and preparation of surveys, training on Labor Market Analysis, undertaking Labor Market Analysis and Needs Assessments. Phase I is scheduled to be completed in 6 months. After the implementation of Phase I, all the stakeholders in this Project will come together to outline the roadmap for the second phase in transferring the "Skill 10" and building the capacity of the vocational education system in Cameroon. The pilot operation of the project in Yaoundé and Douala will be replicated in other cities in the country once the relevant assessment is made.
Photos