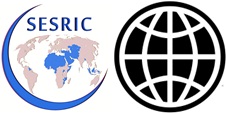 A number of talks have been held between SESRIC and the World Bank on January 9-10, 2013, at the Bank's headquarters in Washington DC, USA, to explore the potential modalities for greater cooperation between the two institutions on various fronts. The SESRIC delegation was composed of Dr. Savas Alpay, Director-General, and Mr. Nadi Serhan Aydin, Researcher at the Department of Economic and Social Research.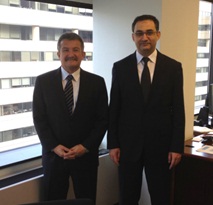 As part of the meetings in Washington DC, SESRIC and the World Bank signed a Memorandum of Understanding to pace up bilateral cooperation in the area of Islamic economics and finance. The agreement is envisaged to allow the two institutions to mutually leverage on their expertise to achieve their common objective of promoting the development of Islamic economics and finance and its expansion at the global scale. The agreement is signed by Dr. Alpay, and Dr. Tunc Uyanik, who is the Director of Global Financial Systems Practice and Chairman of Islamic Economics and Finance Working Group at the Bank. The Practice is part of the World Bank's Financial and Private Sector Development Vice Presidency. Dr. Uyanik is also the Director for the Bank's activities in the East Asia and Pacific Region. Also present in the signing ceremony was Mr. Abayomi A. Alawode, Manager at the World Bank Global Financial Systems Practice Directorate.
During its visit to the World Bank, the SESRIC delegation was also received on a courtesy call by Dr. Mahmoud Mohieldin, President's Special Envoy on Millennium Development Goals (MDGs) and Financial Development. The SESRIC Director-General briefed Dr. Mohieldin on the recent activities of the Centre, particularly in the area of Islamic economics and finance, and appreciated his continued support in the development of this emerging field. Dr. Mohieldin commended the Centre's work so far in promoting the public awareness in the area of Islamic economics and finance and, referring to the two landmark Islamic finance events that SESRIC will be organizing in September 2013 in Istanbul, Turkey, he expressed, in his capacity as the President's Special Envoy, his readiness to be a part of and support these events.
In another courtesy call on Mr. Kaushik Basu, the recently appointed Senior Vice President and Chief Economist of the World Bank, Dr. Alpay expressed the Centre's openness to explore further cooperation opportunities with the Bank, particularly in the area of policy research and the development of joint projects, with a view to addressing the challenges confronting the development process in the mutual member countries.
The SESRIC delegation also met with Ms. Claudia Sepulveda, Senior Economist in the World Bank's Development Economics Vice Presidency and Manager of the Annual Bank Conferences on Development Economics (ABCDEs), to discuss the potential ways and means for the Centre's involvement in the ABCDE 2013 which would be held on June 3-4, 2013, on the theme "Risk and Vulnerability" and under the hospitality of the Bank.