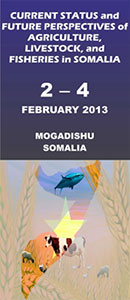 SESRIC organised, in collaboration with Aegean International Federation of Health (ESAFED) and Turkish Cooperation and Development Agency (TIKA), a workshop on "Current Status and Future Perspectives of Agriculture, Livestock and Fisheries in Somalia" on 2-4 February 2013 in Mogadishu, Federal Republic of Somalia.
The workshop aims to draw attention to the food production process in Somalia, raise awareness on the related subject through training as well as providing the infrastructure for training, and support the lecturers and students of the Veterinary and Agriculture Faculties through knowledge sharing. The seminars of the workshop were delivered by nine selected academicians from various universities of Turkey and attended by H.E. Mr Abdirisak Mohamed Omar, Minister, Ministry of Natural Resources, Ambassadors and 84 people including lecturers and students of Agriculture and Veterinary Faculties of Somalia, veterinaries and representatives of Small and Medium Enterprises (SMEs) and Civil Society Organisations (CSOs).
In his keynote, H.E. Mr Abdirisak Mohamed Omar thanked SESRIC, ESAFED and TIKA for their support and highlighted that timing and subject titles of the workshop are very important for Somalia. Additionally, in his speech, Dr. Cemalettin Kani Torun, Ambassador of the Republic of Turkey to Somalia, emphasized that this workshop has been another permanent support for Somalia.
At the end of the workshop, a final report was declared within the context of the current status as well as future perspectives of agriculture, livestock and fisheries in Somalia.
Documents
Photos