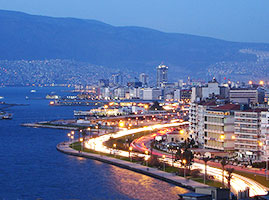 Within the framework of the OIC-VET Programme, Statistical Economic and Social Research and Training Centre for Islamic Countries (SESRIC), in cooperation with the General Secretariat of Organisation of Islamic Cooperation (OIC) and Islamic Development Bank (IDB), organised a 'Training Programme for Agricultural Extension Experts in OIC Member States' on 21-23 May 2013 in Izmir, Republic of Turkey.
The delegates of 18 OIC Member Countries including Afghanistan, Algeria, Burkina Faso, Cameroon, Cote d'Ivoire, Egypt, Indonesia, Iraq, Libya, Maldives, Morocco, Nigeria, Saudi Arabia, Somalia, Suriname, Turkey, United Arab Emirates and Uganda attended the training programme. The representatives of international and private organisations including the United Nations Food and Agriculture Organisation (FAO), and SÜTAS Corporation also took part in the programme. The Centre was represented thereat by Mr. Huseyin Hakan Eryetli, Director of Training and Technical Cooperation; Ms. Fatma Nur Zengin and Mr. Efe Kerem Aydin, Programme Coordinators.
After recitation from the Holy Quran, the training programme commenced on 21 May 2013 with the welcome message of Mr. Huseyin Hakan Eryetli, on behalf of Prof. Savaş Alpay, Director General of SESRIC. He welcomed the participants of this gathering and expressed SESRIC's gratitude to the General Secretariat of OIC and the IDB for their cooperation in the implementation of this important programme. Mr. Eryetli briefed participants on SESRIC's research, statistics and training activities in the the field of agriculture.
The first two days of the programme, agricultural experts from the Ministry of Food, Agriculture and Livestock of Turkey, international organisations, private companies and universities made their presentations on innovative agricultural extension and consultancy applications, agricultural extension methods and techniques and international and public-private cooperation on agricultural extension. In addition, representatives of the OIC Member Countries presented their country reports in the context of agricultural extension. Last day of the training programme included theoretical and technical discussions on the latest developments in agricultural extension and site visits to Izmir Provincial Directorate, Ministry of Food, Agriculture and Livestock of Turkey and Agricultural Extension and In-Service Training Centre (TAYEM) in Aydin, Republic of Turkey.
Documents
Agenda (English)
Final Recommendations (English) (Arabic) (French)
Welcome Message
Opening Statement SESRIC (English)
Presentations
Innovative Agricultural Extension and Consultancy Applications
Agricultural Extension Methods and Techniques
International and Public-Private Cooperation on Agricultural Extension
Working Group and Knowledge Sharing Sessions on Agricultural Extension Practices in the OIC Member Countries:
Field Visits
Photos