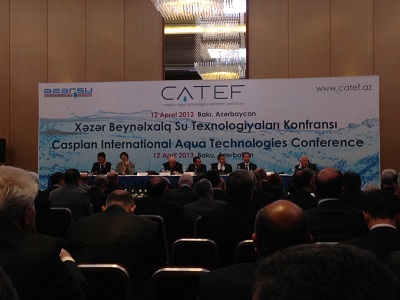 The Caspian International Aqua Technologies and Exhibition and Forum was held on 11-13 April 2013 in Baku, Azerbaijan under the hospitality of Azarsu - an organization in charge of state policy and strategy in the field of water supply, drinking water supply and sanitation services to consumers in a centralized manner. The event was attended by the President of Azerbaijan H.E. Mr. Ilham Aliyev, the Deputy Prime Minister of Azerbaijan H.E. Mr. Abid Sharifov, Minister of Ecology and Natural Resources of Azerbaijan H.E. Mr. Huseyngulu Bagirov, Minister of Forestry and Water Affairs of Turkey H.E. Prof. Veysel Eroglu and relevant international institutions, including Statistical, Economic and Social Research and Training Centre for Islamic Countries (SESRIC), United Nations Educational, Scientific and Cultural Organization (UNESCO) and International Water Association (IWA), as well as over 200 specialists and 50 professors from different countries. Dr. Umut Unal, Researcher at SESRIC, represented the Centre thereat.
In recent years, the water supply and sewerage systems for all cities and towns, as well as for hundreds of villages and other residential settlements in Azerbaijan are either established or refurbished, water intake and water treatment plants based on new technologies are being built, and main pipelines and water distribution networks are being constructed with the collaboration of international finance institutions such as, including but not limited to, the Islamic Development Bank (IDB), the Saudi Development Fund and the Asian Development Bank (ADB). The exhibition is, therefore, of great significance in terms of implementing new programs in the drinking water supply sector and in the introduction of up-to-date technology and innovations.
In the frame of the exhibition, Caspian International Aqua Technologies Forum was also held. The issues discussed at the forum include XXI century - innovative technologies for drinking water processing , environmentally innovative wastewater purification technologies and use of disposal products, express methods for the assessment and benchmarking of water sources, engineering communication inspection methods and ditchless construction technologies, success formula advanced management methods in water supply, waste and rain water systems, technologies for the drying of swamplands and artificial lakes, creation of environmentally healthy zones, healthy environment – green planet.
In this context, the event not only created a traditional international exhibition and forum dedicated to the water production and supply industry in Baku but also used the exhibition and forum as a meeting place for the exchange of knowledge, experience, and technology between local and foreign professionals. The event also further improved the knowledge of local professionals through the provision of academic workshops and presentations. It introduced the latest technologies from the world's leading companies to the major projects implemented nationwide.
Document