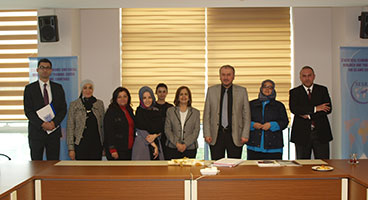 Delegation from Egyptian Banking Institute, Central Bank of Egypt visited Mr. Hüseyin Hakan Eryetli, Director of Training & Technical Cooperation Department at SESRIC headquartes, Ankara, Turkey on 22 April 2013. The delegation from Egyptian Banking Institute, Central Bank of Egypt consisted of Dr. Mona El Baradei, Executive Director, Zeinab Abdel Razek, Head International Cooperation&Donor Projects Unit, and Hend Ebeid, Director Banking and Finance Programs Department.
At the outset, Mr. Eryetli, welcomed the delegates and briefed them on the hierarchy of the Organization of the Islamic Conference (OIC) and programs undertaken by SESRIC focusing on the Central Bank Capacity Building Programme CB-CaB. Mr Eryetli also briefed the delegates on the annual meetings of the governors of the Central Banks and Monetary Authorities of the OIC Member Countries.
Mr. Eryetli also mentioned that SESRIC aims to enhance cooperation and collaboration with related national and international institutions aiming at realising its objectives for the benefit of OIC Member Countries. In this regard, he expressed SESRIC's readiness in improving mutual relationship with the Egyptian Banking Institute of the Central Bank of Egypt, especially in the area of capacity building programmes.
Dr. El Baradei informed that the Egyptian Banking Institute offers variety of training and certificate programmes in various fields such as banking, treasury, and risk management in Arabic and English. She also offered to share knowledge and experience and the expertise of the Egyptian Banking Institude under the framework of the CB-CaB for the benefit of OIC Member Countries.