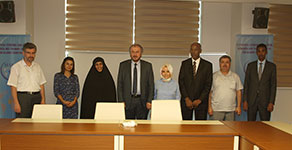 Her Excellency Mariam Qasim Ahmed, Minister of Human Development and Public Services of the Democratic Republic of Somalia, paid a courtesy visit to SESRIC Headquarters, Ankara, Turkey, on 1 July 2013. The Minister was accompanied by Osman Omar Abdi, Regional Medical Officer of Banadir Region, and Dr. Lokman Çam, Pediatrician of the Aegean International Health Federation (ESAFED), and was received by Mr. Hüseyin Hakan Eryetli, Director of Publication and IT Department and Mr. Mehmet Fatih Serenli, Director of Training and Technical Cooperation Department at SESRIC.
At the outset, Mr. Eryetli welcomed Her Excellency and gave a short presentation about SESRIC activities and the undertaken programmes focusing on the Ibn Sina Health Capacity Building Programme with the implemented training courses in Somalia. During the meeting, Mr. Eryetli also mentioned that SESRIC aims to improve health service delivery and practices in Somalia by analysing the needs and capacities of the Ministry of Human Development and Public Services.
On her side, H.E. the Minister informed that Somalia requires concerted action in health related issues and commended the endeavours made by SESRIC as a powerful signal for a good start by implementing training courses on health related issues.