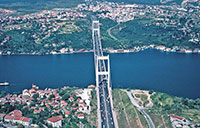 Statistical, Economic and Social Research and Training Centre for Islamic Countries (SESRIC) was represented in the conference on "Private Sector's Role in Vocational Training-Lessons Learned from Turkey" in Istanbul, Turkey on 12-13 June 2013, which was jointly organised by UNDP Istanbul Center for Private Sector in Development (IICPSD) and the Union of Chambers and Commodity Exchanges of Turkey (TOBB).
The Conference brought together various key private and public stakeholders from Turkey and abroad in order to launch a global debate on the role of the private sector in designing and delivering more effective vocational education and training for sustainable employment with an emphasis on youth and women.
The Conference focussed on the modalities that the private sector can employ in complementing the role of the state in providing employment services needed for sustainable and inclusive growth. It also marked the announcement of the findings of the IICPSD's pilot research project on Turkish private sector-led initiatives and public-private partnership in vocational skills generation, as well as the opportunity for other relevant international / global private and public stakeholders to partner with IICPSD and TOBB in the upcoming worldwide research on private sector's engagement in vocational training.