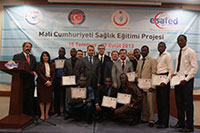 The Statistical, Economic and Social Research and Training Centre for Islamic Countries (SESRIC) organised, in collaboration with the Turkish Cooperation and Coordination Agency (TIKA) and the Aegean International Federation of Health (ESAFED) a training course for 9 medical doctors from the USTTB – Bamako University Medical Faculty in Izmir, Republic of Turkey. The training course that was scheduled from 15 July until 27 September 2013 was provided in several training and research hospitals approved by the Ministry of Health of the Republic of Turkey. The training course ended with a certificate ceremony in Izmir.
The training course was divided into:
Paediatric Surgery (1 doctor)
Emergency (1 doctor)
Radiology (2 doctors)
Rheumatology (2 doctors)
Neurology (1 doctor)
Infectious Diseases (2 doctors)
During the training course a mentor was assigned to each participant and the course level was adjusted to the level of the participant.
Photos
Video